Come visit us at BIOFACH 2020 in Nuremberg
---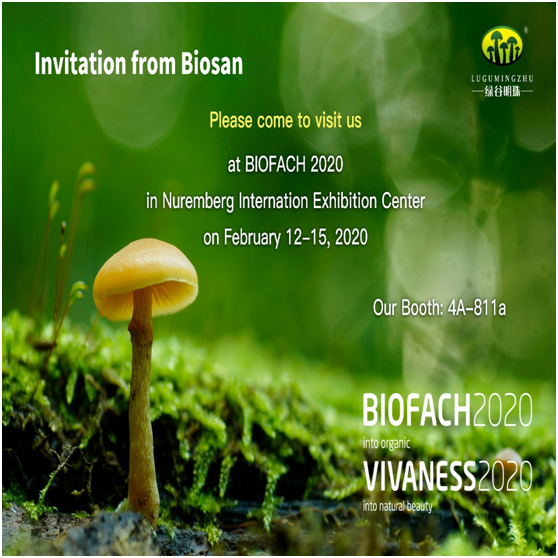 Dear Sir/Madam,
BIOFACH 2020 will be held from 12th to 15th February 2020 in Nuremberg, Germany. We will show our high quality organic mushroom in BIOFACH 2020. It is our third time to join the great organic exhibition. If you or your colleagues will participate in BIOFACH 2020, please come to visit our booth. Our booth number is 4A-811a.
We are the benchmarking enterprise focusing on organic mushroom cultivation, processing and marketing in the world. We have the advanced factory with the certification of HACCP, FSSC 22000 and China Food SC. We have our own organic mushroom farms in the Chinese geographical indication areas of Reishi, Lion's Mane, Maitake, Shiitake, Tremella etc. We can supply over 10 varieties of mushroom ingredients including mushroom powders and extracts, and also provide the mushroom supplements and the private label service. Our mushroom powders and extracts are 100% pure natural. Most of our mushroom products have the organic certificates of EU, USDA, Japan, China as well as Kosher check. Our customers are mainly from US, Britain, Germany, Switzerland, Australia etc., and very satisfied with our product's quality and service.
It would be our great pleasure to meet you at BIOFACH 2020 to introduce our organic mushroom products and understand your idea on mushroom products. We will make our best effort to serve our customers and establish a long term business co-operation.
Sincerely Yours,
Wang Xingli
Chief Executive Officer
Biosan Biotech Co, Ltd
116 Dayuan Street, Shuige, Lishui City, Zhejiang, China
Tel: +86 578 2866525 Fax:+86 578 @866335
Email: biosan@qualitymushroom.com
Web:www.qualitymushroom.com
Related News
undefined
---