Organic mushroom is the hot topics at SupplySide West 2019
---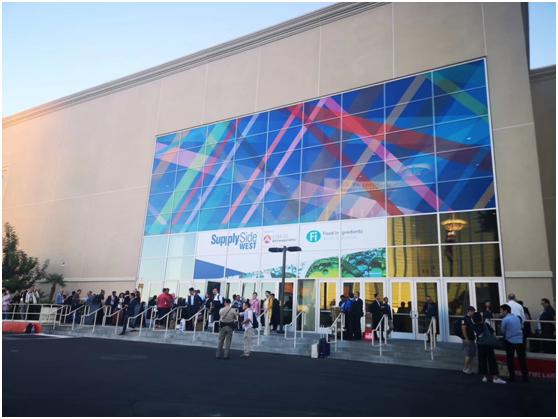 SupplySide West & Fi North America was held at Mandalay Bay, Las Vegas on October 15-19, 2019. Nearly 20,000 professionals from all over the world attended the Conference. This Conference set up the professional exhibitions, interactive forums, workshops, GMP and regulatory training, food ingredients technology, new product development, AHPA Botanical Congress and other events.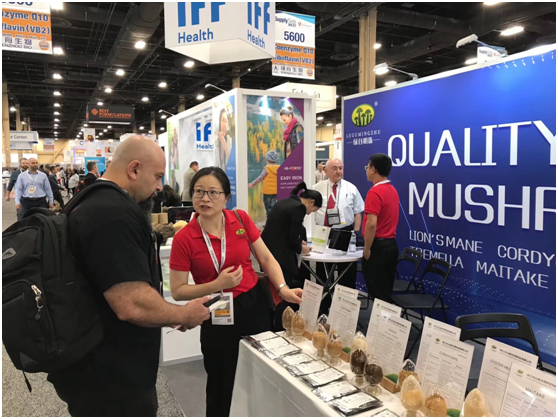 The 1,496 enterprises from all over the world exhibited more than 10,000 kinds of health food raw materials and products. The number of exhibitors from China was 355, ranked in the No. 1 by country. The raw materials and products of mushroom are one of the characteristics of this Conference. Among the 355 exhibitors, 54 enterprises' raw materials and products are related to mushroom.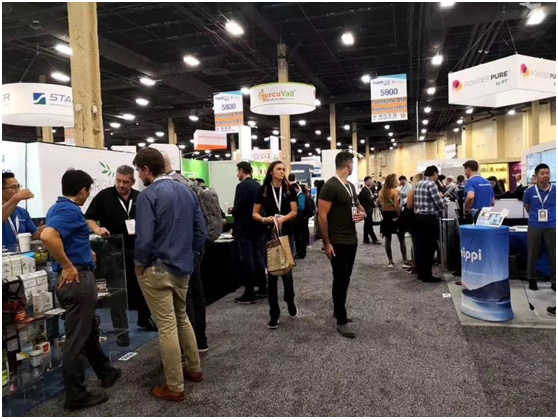 The conference reflected the new development trend of healthy food ingredients. The raw materials and ingredients with function of immunomodulation, improvement of memory, beauty and skin-care, bone health and improvement of mood are popular with consumers. More and more professional sellers choose organic and pure food ingredients without adulteration. The organic mushroom products that exhibited by Biosan Biotech Co., Ltd.(Biosan) are in line with the development trend and customers' requirements for quality, obtaining the interests of many professional buyers.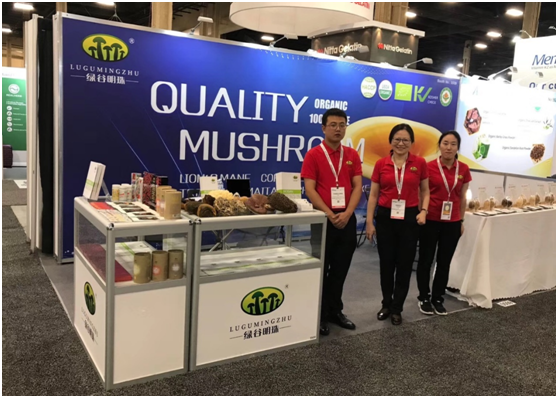 Biosan is a professional and leading enterprise focusing on organic mushroom cultivation, processing and marketing, supplying many kinds of mushroom extracts, mushroom powders, dried mushrooms as well as mushroom products private label service with the request of our customers. In the exhibition, Biosan exhibited 14 kinds of organic mushroom with different specifications, including Reishi, Lion's Mane, Maitake, Cordyceps militaris, Turkey tail, Shiitake and so on, leading in products quantity, products quality and professional service in the industry. It is Biosan's sixth time to attend the famous fair.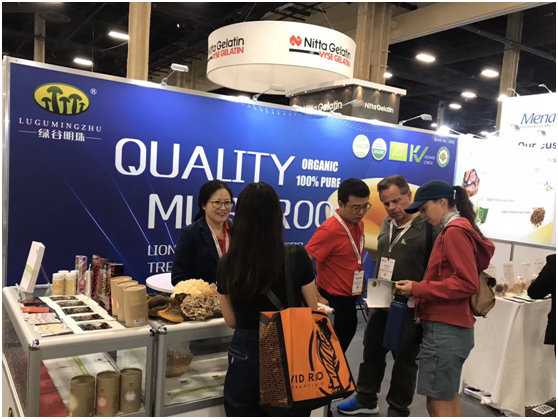 The organic Reishi wall-broken spore powder, Lion's Mane powdered drink and Maitake powdered drink were deeply loved by visiting professional customers and praised after their tasting on site. The low-temperature spore-wall breaking technology, membrane separation technology and microencapsulation technology used in the processing make customers more convinced of the product quality and efficacy.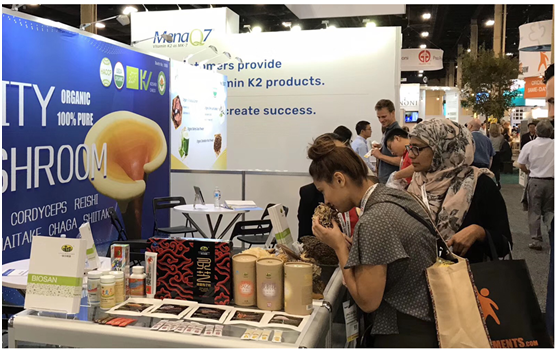 During the exhibition, our new and old customers came to Biosan's booth having a detailed and friendly discussion with our Mr. Hongwei Qiu---Chairman of Biosan and Ms. Xingli Wang---CEO of Biosan, presenting their trust and the quality satisfaction of Biosan's products and said they will keep a long-term cooperation relationship with Biosan. They also hope we can continue to develop and innovate to bring them more high-quality new products.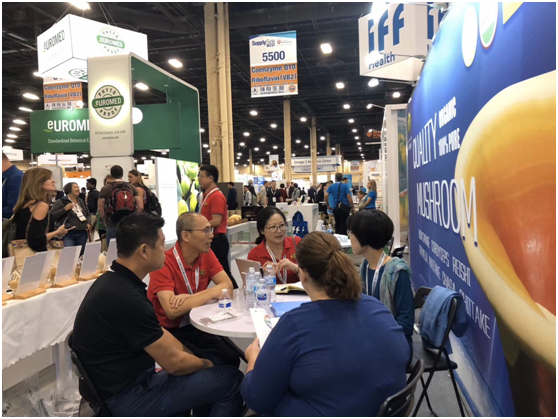 In this exhibition, John Barson, the reporter from Total Health Magazine in US, chose Ms. Xingli Wang to have an interview in our booth about the efficacy, cultivation and processing technology of Biosan's organic mushroom. He praised Biosan's patent technology to remove heavy metals from our mushroom products and expressed his willingness to introduce our brand products to the North American consumers.
In August, 2019, Biosan and Ingradientsonline reached a strategic partnership. The organic mushroom products of Biosan can be sold on the platform of Ingradientsonline.com. At the same time, Ingredientsonline.com also provide the warehouse services for Biosan in Los Angeles and New York. Customers in US can place orders directly from Ingradientsonline.com, or place orders from Biosan and obtained the products in US directly.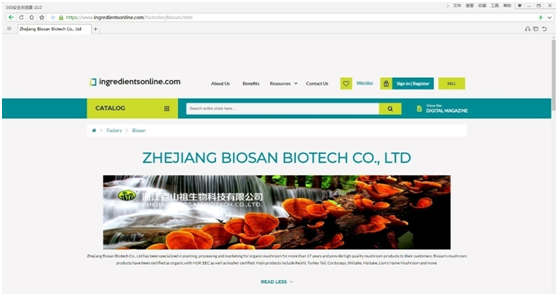 Related News
undefined
---